Robert K. Weiss Interview
published in Generation Series N°30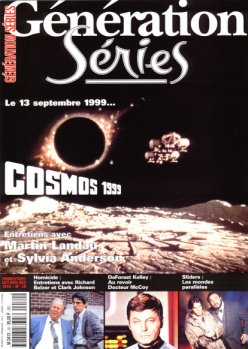 The Timer: When and how did you have the idea of creating Sliders?
Robert K. Weiss :
For some time, I had been thinking about TV series concepts that could last 100 episodes. I had become interested in paralell universes through my
studies of the "new" physics. In my head I had combined features of a short
sci fi story called "By His Bootstraps" and the Irwin Allen TV series "Time
Tunnel." Actually, I thought of Sliders as "Time Tunnel" sideways-not time
travel but same year , different Earths.
By the way, that's my voice whispering "Sliders" in the original opening and
bumpers of the series.
The Timer: With Sliders, you managed to inject new life into the science-fiction!
Have you been a science-fiction fan from early childhood? If so, what were
your readings, your influences?
RKW :
I have been a science fiction fan since childhood. It was my favorite
reading, especially short stories. Amongst my favorite authors were Heinlein,
Van Vogt and Asimov. I was attracted more to harder edged science fiction
opposed to fantasy.
I liked a whole range of science fiction movies like Destination Moon
,Forbidden Planet and The Day The Earth Stood Still. On television I liked
to watch Way Out, The Twilight Zone, Outer Limits and Ernie Kovacs.
I also read Mad magazine religiously. And although Mad is a humor magazine,
it contained a feature called Scenes We Like To See, which set up a
particular movie archetype with a surprise twist at the end. Early on this
informed my thinking about alternate realities.
The Timer: You had a huge success with "Blues Brothers" and "Dream On". Do you
consider that Sliders owns the same humorous elements? Or, what is the
particularity of the "Sliders humor and state of mind"?
RKW : The original conception of Sliders as evidenced in the 2 hour pilot was to
have humor as a definite part of the mix. Tracey Tome and I felt that the key
to any potential success of the series was not to take the concept completely
seriously. We felt that there was great humor to be derived from the cultural
mutations we could create in parallel universes. Unfortunately, with each
passing season, this was a decreasing part of the fabric of the show. It's a
shame because this could really have been an outstanding continuing hallmark
of the show.
The Timer: What is the episode or scene you are especially proud of? Why?
RKW :
After 5 years of Sliders ,my favorite episode is still the pilot. For me it
is the best representation of the vision of the series as originally
conceived.
The Timer: Do you have regrets about the writing of Sliders? Some arcs you wish you
had developed better? On the contrary, do you consider that the social satire
was sometimes too caricatured?
RKW :
On the whole I believe that the writing on the show suffered in the last
couple of years. Of course there were exceptions, but in general the show
fell into a pattern of relying on formulaic conventions and devices. I also
didn't care for the evolution of Rembrandt's character. I thought it lost a
lot of charm and humor as the seasons went by.
Satire is very hard to pull off. It has to be well written and deftly
crafted. When that is not the case the results can be ugly. Sometimes Sliders
did it right, sometimes not.
The Timer: What are your reactions regarding the evolution of the show (especially in
season 4 and 5) and the recent cancellation by Sci-Fi Channel?
RKW :
Regardless of any of my specific criticisms of the show, I was very
disappointed by its cancellation. I have received much e-mail from Sliders
fans expressing their bewilderment at how the Science Fiction Channel's
top-rated show could get canceled. The answer is that television is a
business and a network must consider many factors in building a schedule.
Sci-Fi Channel had its reasons. C'est la guerre.
My only consolation is that in a parallel universe, Sliders was picked up for
another 5 years and Jerry O'Connell decided to stay with the show.
The Timer: If Sliders is really finished, would you like to direct a Sliders movie,
to put an end to the long story of Sliders, and to resolve the unsolved
questions?
RKW :
With the cancellation of Sliders I have started to think about what a
feature version might look like. I think there are still some new twists and
turns a story might take. But, I can't say much about it right now.
The Timer: What are your projects now? (TV, Cinema...?)
RKW :
I am currently preparing to shoot a feature film entitled The Ladies' Man. It
stars Tim Meadows and Will Farrel from Saturday Night Live, the talented
English comic actor Lee Evans and Billy Dee Williams. It's the story of a man
who has to deal with the problem, "so many women, so little time."
This October the film Superstar will be released in America. It stars Molly
Shannon, Harlan Williams and Glynnis Johns.
On the non-entertainment side, I am Vice Chairman of the X Prize Foundation,
an organization sponsoring a $10 million cash prize to the first civilian
group to fly people on a sub-orbital mission to space with a reusable space
craft.
The Timer: Imagine that you have the possibility to travel through the parallel
universes, like Quinn. In real life, do you think you could be a good Slider?
Why?
RKW :
I can readily imagine being a Slider. I like surprises and I like having to
think quickly in difficult situations. I might have a problem one day getting
attached to an idyllic earth, but when the timer starts beeping, you've got
to Slide !
Thank you very much to Robert K. Weiss for answering my questions !
To slide to the main pages of the site, use the buttons of the timer...